Good News for all of you who are missing the music!
"Jerry Ryan Theatre" Presentation - October 10, 2021
Click on a thumbnail to see a larger photo!
On October 10, the performance hall at the Sugar Creek Music Club was officially named the "Jerry Ryan Theatre." Mac McAllister and Merle Dollar made the official presentation in appreciation of all of Jerry's work in making this place, as well as Local Color, a success in presenting live music to our area.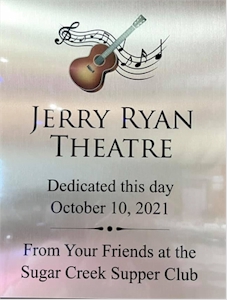 ---
You are visitor number 13,790 to this page.
If you have comments or questions about the web site, please e-mail
© 2022
the Sugar Creek Music Club